Over Bert Vanderveen
Ik ben inmiddels midden zestig, woonachtig in het centrum van Enschede, en ooit opgeleid tot illustrator en grafisch ontwerper aan de Akademie voor Kunst en Industrie te Enschede. Na mijn eindexamen in 1980 heb ik gewerkt als assistent-reclamefotograaf, illustrator, werktekenaar, visualiser, art-director, ontwerper, tekstschrijver, conceptmaker en communicatie-adviseur. In het begin freelance en later bij bureaus waar ik mede-eigenaar van was — in Deventer en Enschede.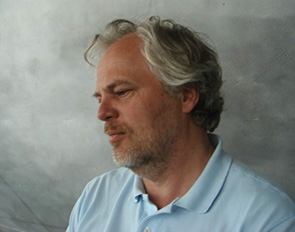 Nog wat persoonlijke informatie: ik heb twee volwassen zoons uit een eerdere relatie. Op 7 juli 2012 is mijn vriendin, Miep Jukkema, overleden — ze was net 58 jaar en ik mis haar heel erg.
Als ik lees (en dat doe ik tegenwoordig minder dan vroeger) zijn dat bij voorkeur engelstalige thrillers, historische romans en vakboeken over houtbewerking, architectuur en design.
De laatste tijd besteed ik weer meer tijd aan dingen met mijn handen maken, vooral houtbewerking…
Mijn emailadres is: mail [at] bertvanderveen [punt] nl
About Bert Vanderveen
I am on the other side of sixty, live in the center of Enschede (a city in the east of the Netherlands). I have been formally trained as a graphic designer and illustrator at the art academy AKI. After graduating in 1980 I have worked as assistant-photographer, illustrator, paste-up artist, visualiser, art-director, designer, copywriter, conceptmaker en communication-advisor. In the early years mostly freelance and later on at agencies that I co-owned — in Deventer and Enschede.
Some personal information: I have two grown up sons from a former relationship and had a lovely girlfriend who died, after a six year's relationship, July 7th 2012, and I miss her dearly. When I read (and somehow I seem to find not as much time for that as I would like) I prefer English-language thrillers, historic novels and trade literature about woodworking, architecture and design. I like woodworking and own way too much Festool machinery.
I can be reached by e-mail at: mail [at] bertvanderveen [dot] nl